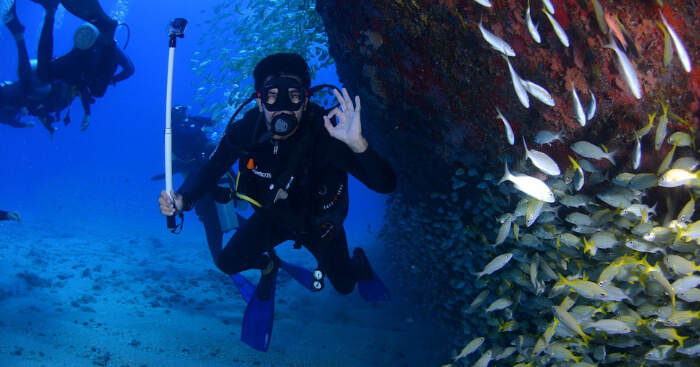 Bali is one of the most trending holiday destinations in Indonesia. Its pristine beaches, rich marine life, and expansive coral gardens are a huge hit among the divers. Scuba diving in Bali as a water sport has a great potential to attract a major chunk of tourism.
Scuba diving in Bali: Dive like a mermaid
Experience the best scuba diving in Bali at these top diving sites. Put the gear on and set out a self-discovery when you see the other side of the world, in the depths of the sea.
1. Amed Beach, East Bali
Once famous for its traditional salt farming, Amed Beach in Bali has emerged as an underwater playground. The historical US Cargo shipwreck – the USAT Liberty, is one of the reasons that this site is a major attraction among the divers, especially Jemeluk Bay.
For a great diving experience, start early in the morning from any of the traditional starting points into the sea. The magical diving experience will bring you to where the treasure of the ocean is kept – the marvelous marine life. The tickling experience of being surrounded by vivid tropical fishes, sea turtles, reef tip sharks is beyond words. The vibrant coral gardens is a mesmerizing treat to the driver's eyes.
Where snorkeling and fishing have been a common activity, freediving is a new extreme sport which has been recently added in the activities around Amed Beach.
Location: 
Must Read: 10 Tourist Attractions in Bali For Your Balinese Bonanza
---
Bali Holiday Packages On TravelTriangle
Stay at luxurious private pool villas and resorts, Experience thrilling water sports – parasailing, scuba diving, and snorkeling – or take a sunset dinner cruise. Get best holiday deals for Bali offered only by TravelTriangle.
---
2. Tulamben, East Bali
The East Bali diving nerve, Tulamben, has attracted diving enthusiasts from across the globe. The magnificently colorful reefs that decorate the ocean floor is a surprise gift to any diver who sets out to explore the depths of the sea from Tulamben.
The historical US Cargo shipwreck – USAT Liberty is the diamond of this diving mine. The interesting fact about the fate of this ship would raise your goosebumps and make the diving experience all the more exciting.
The US Army cargo ship was hit by a Japanese submarine torpedo around 19Km Southwest from Lombok Strait, during the 1942 battle. The US and Dutch destroyers tried to tow this ship to Old Singaraja Sea Port in the North Bali but they failed. The ship that was then resting on the Tulamben beach was pushed 25m into the sea, by a volcanic eruption of Mount Agung. It has now become home to the marine life.
Location: 
Suggested Read: Dreaming Of A Balinese Holiday? Here Is All You Should Know To Make A Perfect Plan [Infographic]
3. Pemuteran Bay, North Bali
Pemuteran Bay is one of the premier sites for best scuba diving in Bali. If you scuba dive here, you will be diving around the world's largest artificial reef project. The waves at this bay remain calm throughout the year because of which he has become the largest area in Bali that has shallow coral reefs.
Earlier, the cyanide fishing had lead to a decline in the coral reefs, but with collaborative actions taken by the local communities, dive operators and resort owners through Karang Lestari Foundation, it has been restored.
As you dive, you will come across spectacular and huge artificial reef gardens. Some gardens have shrines and statues of goddesses that stand there as a surprise for the divers. Pemuteran had a various diving spot which is suitable for different skill levels. This site provides the best scuba diving in Bali for beginners. There are offshore slopes and deep reefs where you can meet the underwater residents like sea fans, lobsters, morays, etc.
Location: 
Suggested Read: Best Places To Stay In Bali For An Unforgettable Honeymoon Experience!
---
4. Nusa Penida, South Bali
Nusa Penida is the largest in the group of three islands that lie at a half-hour distance from each other, in the Southeast of Bali mainland. Diving here brings you a bonus chance of witnessing some of the world's rarest pelagic species, including manta rays, ocean sunfish and even whale sharks.
Though there are multiple diving and snorkeling spots in Nusa Penida, most of them directly open to the Indian Ocean, bringing strong currents. Thus, these spots are strictly for the advanced divers only. So this a great site for adventure scuba diving in Bali.
Scuba diving here gets you the chance to see highly colorful reefs with marine life including frogfish, seahorses, and nudibranchs. The favorite diving spots here include Crystal Bay and Manta Point.
Location: 
Suggested Read: 10 Famous Villages In Bali Bubbling With Life, Art, & Rich Culture
5. Menjangan Island, North Bali
Backed by the West Bali National Park, Menjangan Island is home to the rare Javan rusa deer, locally known as 'menjangan'. Across the coastline, calm waters with excellent visibility throughout the year gift the divers, best sights of the marvelous coral gardens and rich marine life.
You would require a park guide and permit for visiting the Menjangan Island, which can be obtained from tour operators or hotels at the Pemuteran Beach area or the park office in Labuhan Lalang.
Location: 
Suggested Read: 10 Best Hostels In Bali That'll Ensure You Spend Less And Experience More!
Best time & general prices for scuba diving in Bali
The best diving season in Bali falls between the months of May and November. There are a lot of opportunities in scuba diving in Bali for beginners. If you're going for scuba diving in Bali, the price is something you must be looking for. So, the prevailing cost of diving in INR are as follows:
Discover Scuba: IDR 850,000 – IDR 980,000
One Dive: IDR 350,000 – IDR 480,000
PADI Open Water Course: IDR 3,800,000 – IDR 4,050,000
PADI Open Water Advanced Course: IDR 3,070,000 – IDR 3,900,000
Rescue Diver Course: IDR 4,050,000 – IDR 4,350,000
Divemaster Course: starts from 11,250,000
If you are a beginner, then you must go for a Bali scuba diving course. It's always good to learn and try something new. Scuba diving will also enable you to overcome a lot of fears in life.
Safety tips for scuba diving in Bali
Do not hold your breath as this may lead to severe damage to your lungs
Maintain the rate of ascent to avoid decompression sickness
Double check your scuba diving gear and make sure you know how it works.
Know your driving limits and stick to it
Practice some vital diver safety skills
Further Read: 5 Reviving Yoga Retreats In Bali That Connects Nature To Your Soul
We dive not to escape life, but life not to escape us! Scuba diving in Bali is an experience worth giving a try. And now you also know the best place to scuba dive in Bali. So, Plan a trip to Bali in Indonesia and dive like a fish to explore the other world in the deep inside of the sea.
Frequently Asked Questions About Scuba Diving In Bali
Q. Can I still dive if I wear glasses or contact lenses?
A. Yes, you can dive with your glasses on, you'll just need a prescription mask of appropriate power.
Q. How old do you need to be to be able to dive?
A. The minimum age to scuba dive is 10 years old.
Source https://traveltriangle.com/blog/scuba-diving-in-bali/